The Order of Cistercians of the Strict Observance (OCSO)
---
Origin and History
The Order of Cistercians of the Strict Observance (OCSO) is a Roman Catholic contemplative religious order serving God and people mainly through prayer and work. In 1098, the first Cistercian monastery was founded in a wasteland of France called Citeaux by about 20 monks, including the abbots St. Robert of Molesme, St. Alberic and St. Stephen Harding. Subsequently, in about 1125 the first women's monastery called Tart was founded as a dependent monastery of the abbey of Citeaux.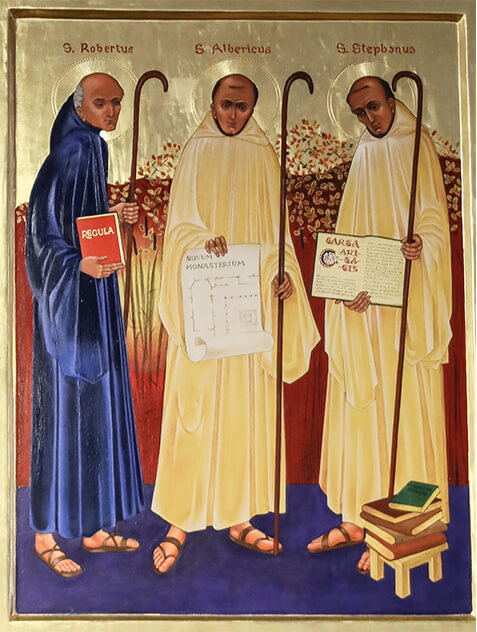 The Founders of Citeaux.
---
As time passed, the monasteries of monks and nuns who followed the Cistercian way of life grew beyond the boundaries of the Western European world achieving a remarkable development. However after such expansion, this was followed by a period of relaxation, and there ensued various repeated attempts at reform. Among these, the reform carried out in the French abbey of La Trappe during the turmoil of the 17th century became widely known, and in 1892 the three monastic congregations that embraced this reform merged forming the religious order known as "The Reformed Order of Our Lady of La Trappe" now called the "The Cistercians of the Strict Observance."
The Foundation of Tenshien
---
Our Lady of the Angels Trappistine Monastery (commonly known as Tenshien), was founded in 1898 (the Japanese year, Meiji 31) by eight nuns dispatched from the Abbey of Ubexy near Nancy, France. In order to spread Christianity to Japan, especially in Hokkaido, and to achieve a rich spiritual harvest, it was keenly felt that the spiritual assistance of the Trappistine nuns was necessary because of the witness of their offering of prayer day and night and their proven respect for work. This became a reality at that time due to the efforts of Bishop Alexandre Berlioz of the Paris Foreign Mission Society. At present, the Order of Cistercians of the Strict Observance has spread throughout the world, and monks and nuns continue to respond to God's invitation, following the Rule of St. Benedict, living consecrated lives as contemplative monastic religious.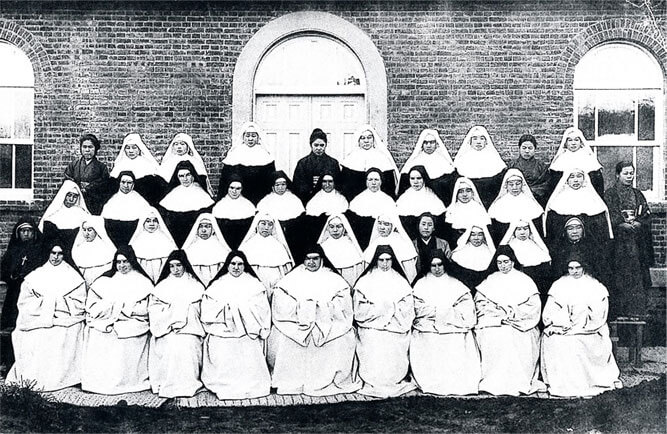 Our community in 1913
---
---
---